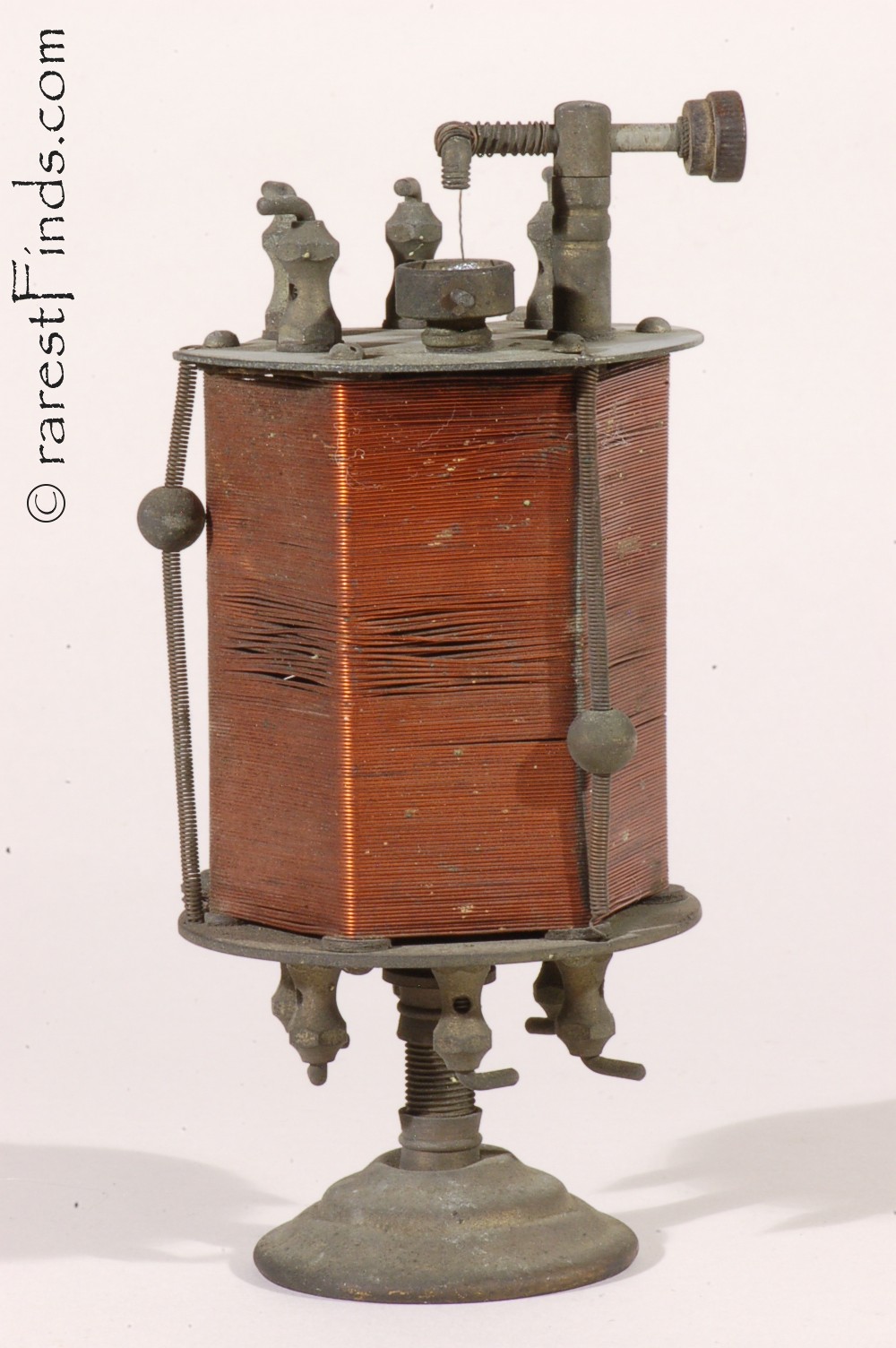 Swiss citizen Charles Louis Marti applied for a patent on December 1st, 1922. It took more than a year till his application for his patent was granted on April 29, 1924. The number of the patent is 1,492,080.
Several companies manufactured crystal sets utilizing Marti's patent and sold the set under the names Martian Big 4 and Saturn.
Until the discovery of the crystal set or radio offered here, all crystal sets or radios sold with the name Martian Big 4 had a tripod base. The radio offered here is the only one discovered with a round base, and is the first version of the Martian Big 4 crystal set.
Erich E. Brueschke, the expert on Martian radios, studied the subject and wrote an extensive report on the different versions of the Martian Big 4. In his report Brueschke differentiated between seven models - some with captive lever binding posts, others with knurled binding posts and additional differences. He also describes a version with pot metal tripod legs instead of Nickel plated brass legs.
The discovery of the set offered here may necessitate a rethinking of the time line presented by Brueschke, who is undoubtedly the expert on Martian crystal sets.
Read more>>
Posted on 10 Apr 2023, 15:03 - Category: Wireless
Comments - Edit - Delete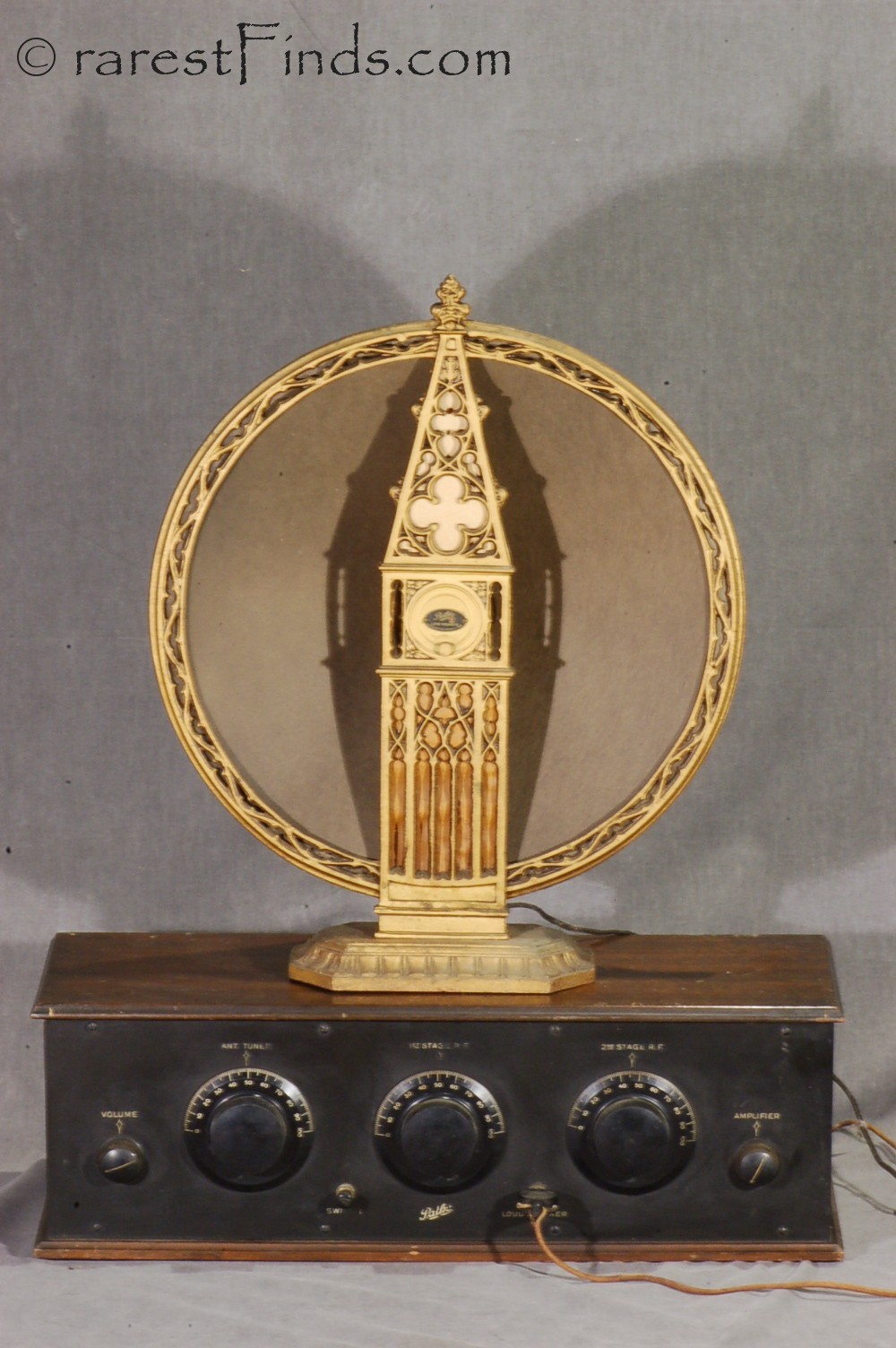 This Pathe radio is exceedingly rare.
However, while not so rare but still difficult to find, the Pathe Westminster cone loudspeaker is stunning.
Pathe manufactured this loudspeaker in two versions; illuminated and not illuminated. This is the illuminated version which has two little light bulbs, a red and a yellow one, which are powered by 110 Volt AC. If operated in a dark room, this speaker is truly a stunning display.
The three dial TRF radio is what a radio in the mid twenties was made of. The radio uses five typical 01A vacuum tubes which are included.
Unlike most of the cone loudspeakers from the mid to late twenties, the Pathe Cathedral loudspeaker is protected by a patent issued on July 2, 1918, with the number 1,271,527.
This patent was issued to M.C. Hopkins for, what he called, a "SOUND REGENERATING MACHINE." utilizing a "tympanum," read more>>



Posted on 15 Nov 2022, 09:59 - Category: Wireless
Comments - Edit - Delete
There are probably only two of these radios extant; the antenna to go with this radio is probably the only one extant.
Made in Medford Hillside in Massachusetts by Stafford Radio Co., it was meant to be a low cost radio with only one tube and an antenna to be installed indoors for ease of operation. The tuning of the radio-station listened to was obtained by sliding two square sliders, probably not very practical, hence the failure of this radio to make any sales. The inventor and owner of Stafford Radio Co., Stephen F. Stafford made specific claims in his application for his Double Helical Antenna application which were impossible to prove at the time. Despite this, his application was successful and a patent was issued on August 21, 1923.
read more>>
Posted on 12 Sep 2022, 12:52 - Category: Wireless
Comments - Edit - Delete
Pages: [1]