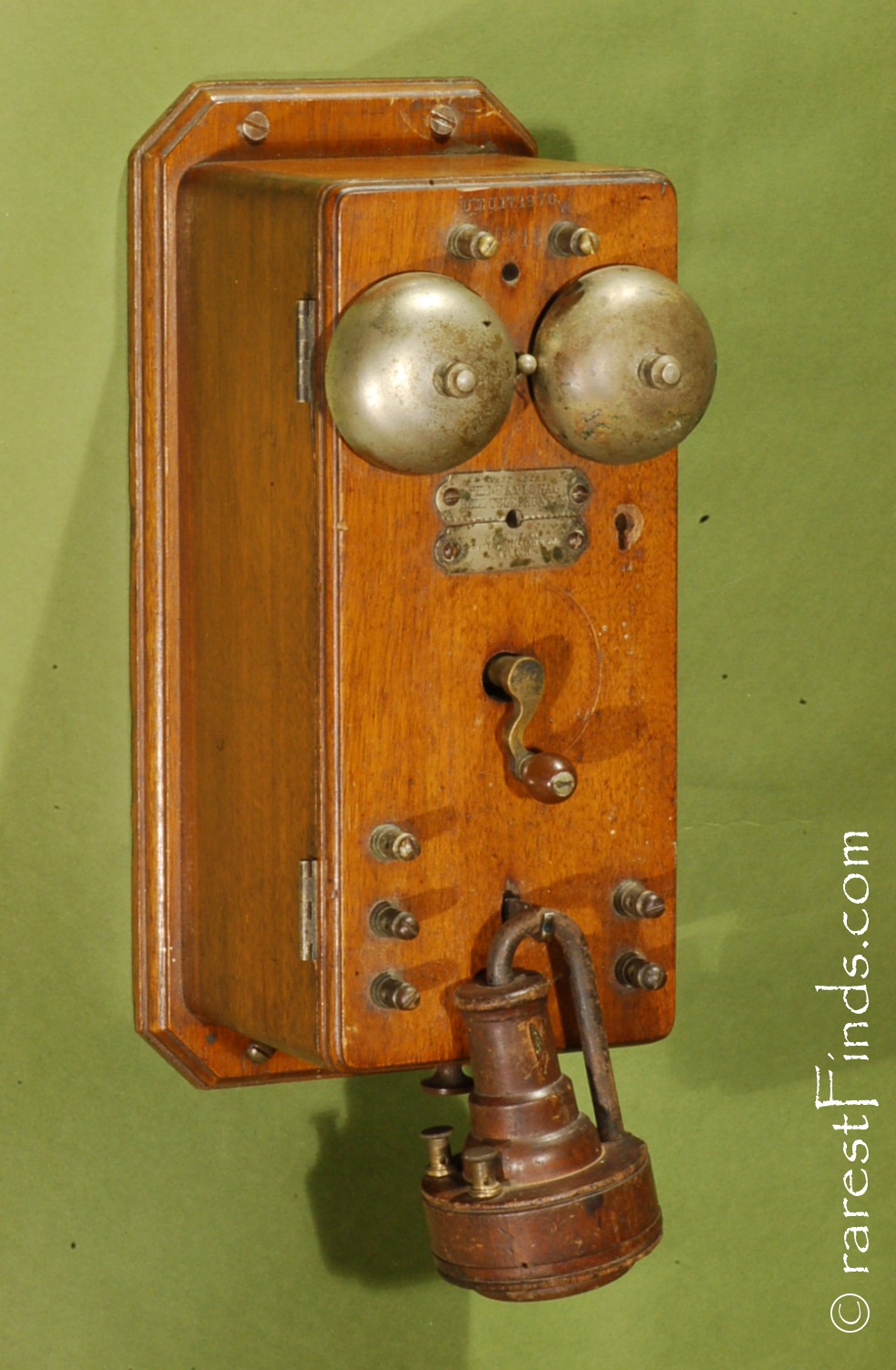 Exceedingly rare historic Telephone, Bell´s first Telephone manufactured by Charles Williams, the telephone every museum and collector is looking for!
Both, his mother and his wife, were deaf. This profoundly influenced Bell's life. He intensely researched acoustics, sound and human hearing and speech. His interest and research on hearing devices eventually culminated in Bell being awarded the first U.S. patent for the telephone on March 7, 1876. Bell considered his invention an intrusion on his real work as a scientist and refused to have a telephone in his study.
Two individuals, Thomas A. Watson and Charles Williams Jr., played an important role in Bell's success perfecting and manufacturing the first commercially successful Telephon,
read more>>
Posted on 10 Jan 2020, 18:51 - Category: Office, Banking
Comments - Edit - Delete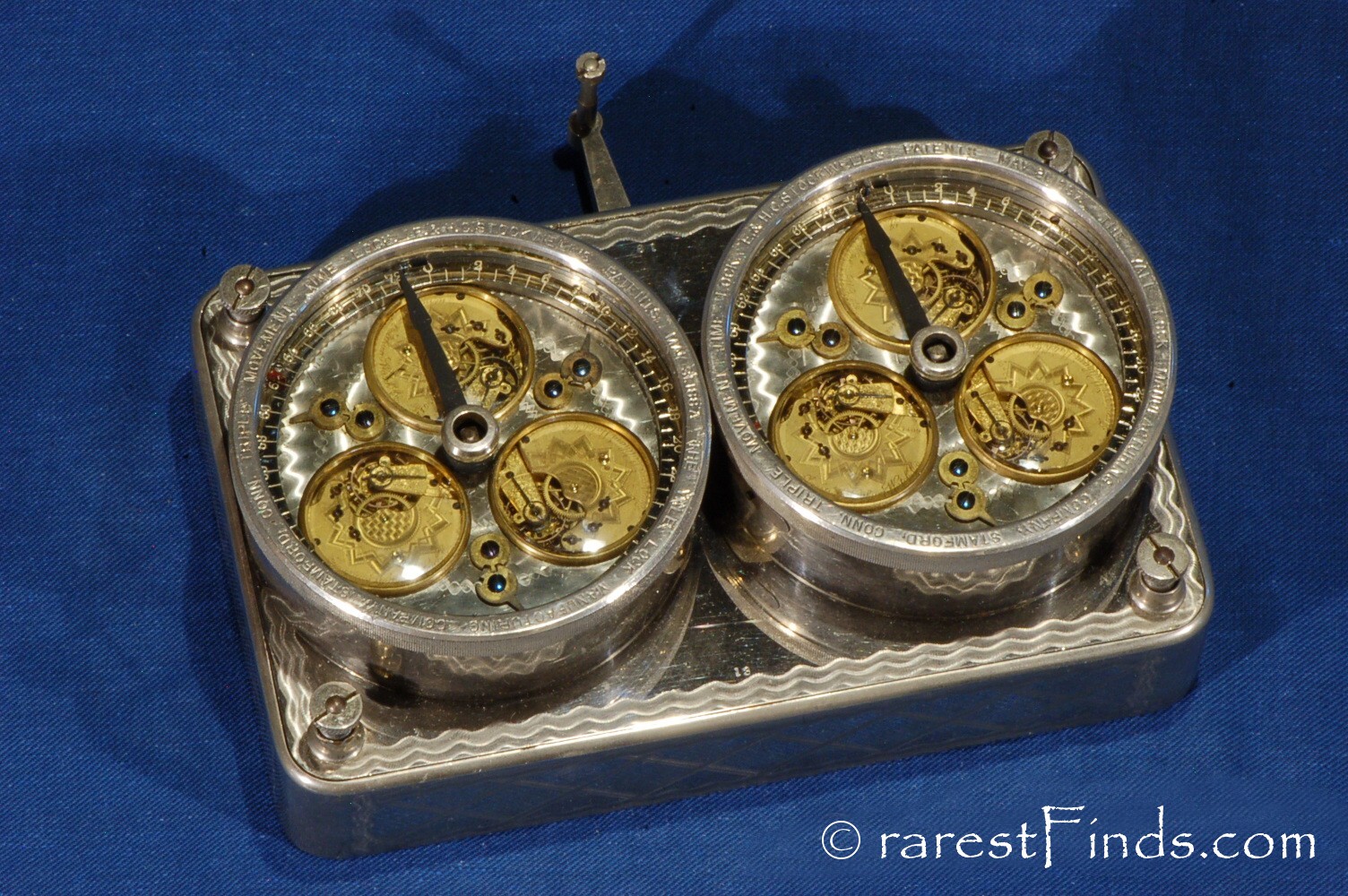 Only 13 were ever built, none were believed to be extant till this Yale And Towne Sextuple or model EE Safe-Time-Lock was found! This is the only extant safe-time-lock with a redundancy of five clock movements!
This time-lock is based on Emory Stockwell's patent with number 363'920, issued on May 31, 1887,
read more>>
Posted on 19 Oct 2018, 09:13 - Category: Office, Banking
Comments - Edit - Delete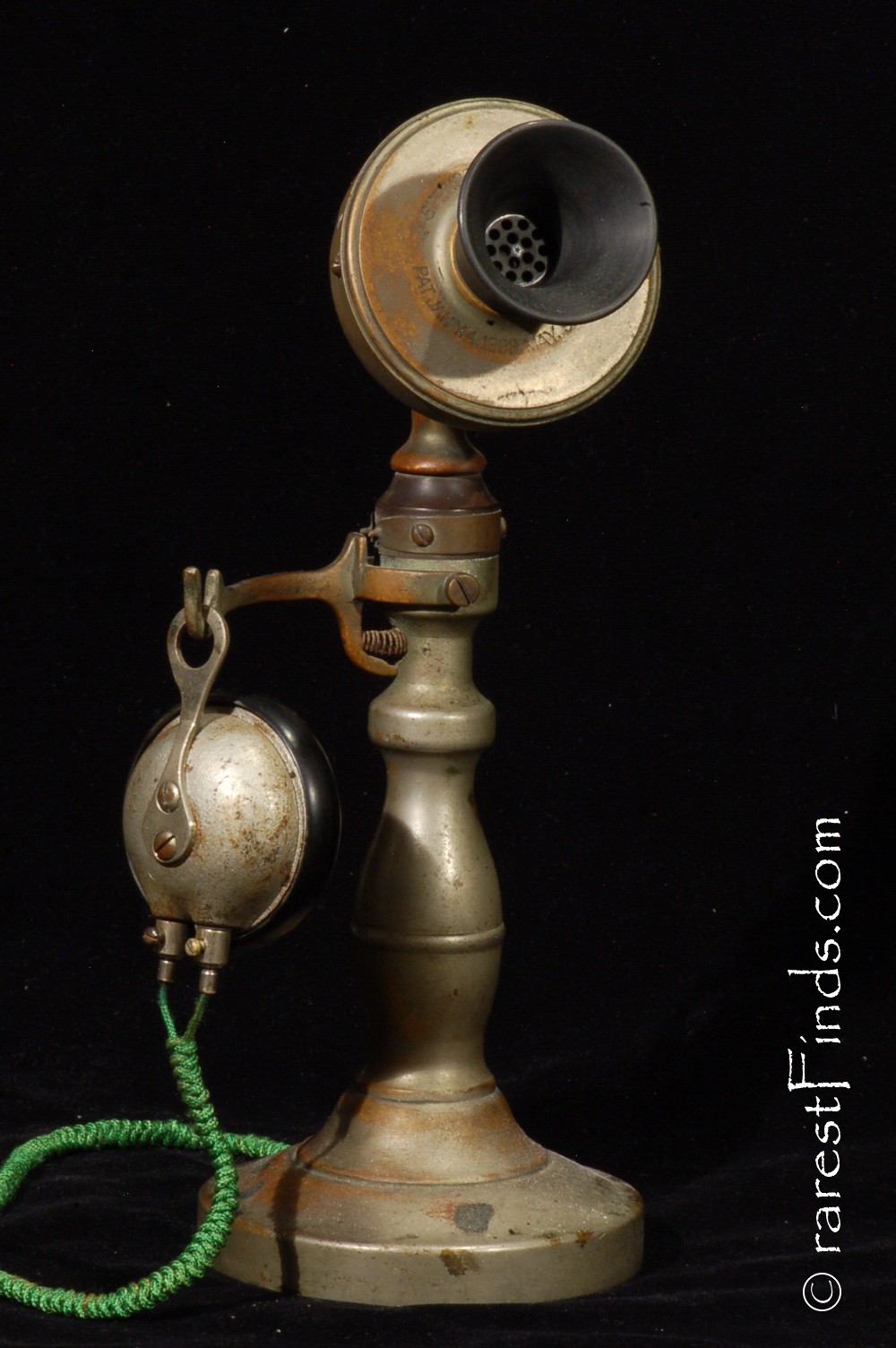 Almost impossible to find, a telephone which is unknown to the large and very active community of telephone collectors, the Spencer Potbelly Candlestick Telephone. I could not find a picture or any record in any publication in the field of historic telephony, or on the Internet! The only records I could find are three patents issued to James H. Spencer and Malcolm S. Keyes, both of New York City, N.Y., a description in the Scientific American Supplement issue of January 29, 1898, and a description of the novel transmitter published in the Electrical World and Engineer, Volume 34, page 248.
There are many telphone related patents issued and no actual hardware was ever found; this was true about the US Patents with the numbers 596'834, issued on January 4, 1898, and the consecutive numbers 624'696, and 624'697, both issued on the same day, May 9, 1899, untill this telephone was found to prove that it was actually manufactured. The serial number of 32 is an indication that there where not many made.
This candlestick telephone with the novel form of transmitter patented by Spencer and Keyes was manufactured by the the Spencer Electrical Company, 163 Greenwich Street, New York City, N.Y.
A description of the novel transmitter, published in the Electrical World and Engineer, Volume 34, page 248, states: "The object of the invention is to avoid metallic vibrations, only the intended actual sound being properly transmitted. To accomplish this result, Mr. Spencer employs novel means of supporting the diaphragm,"
read more>>
Posted on 01 June 2019, 13:29 - Category: Office, Banking
Comments - Edit - Delete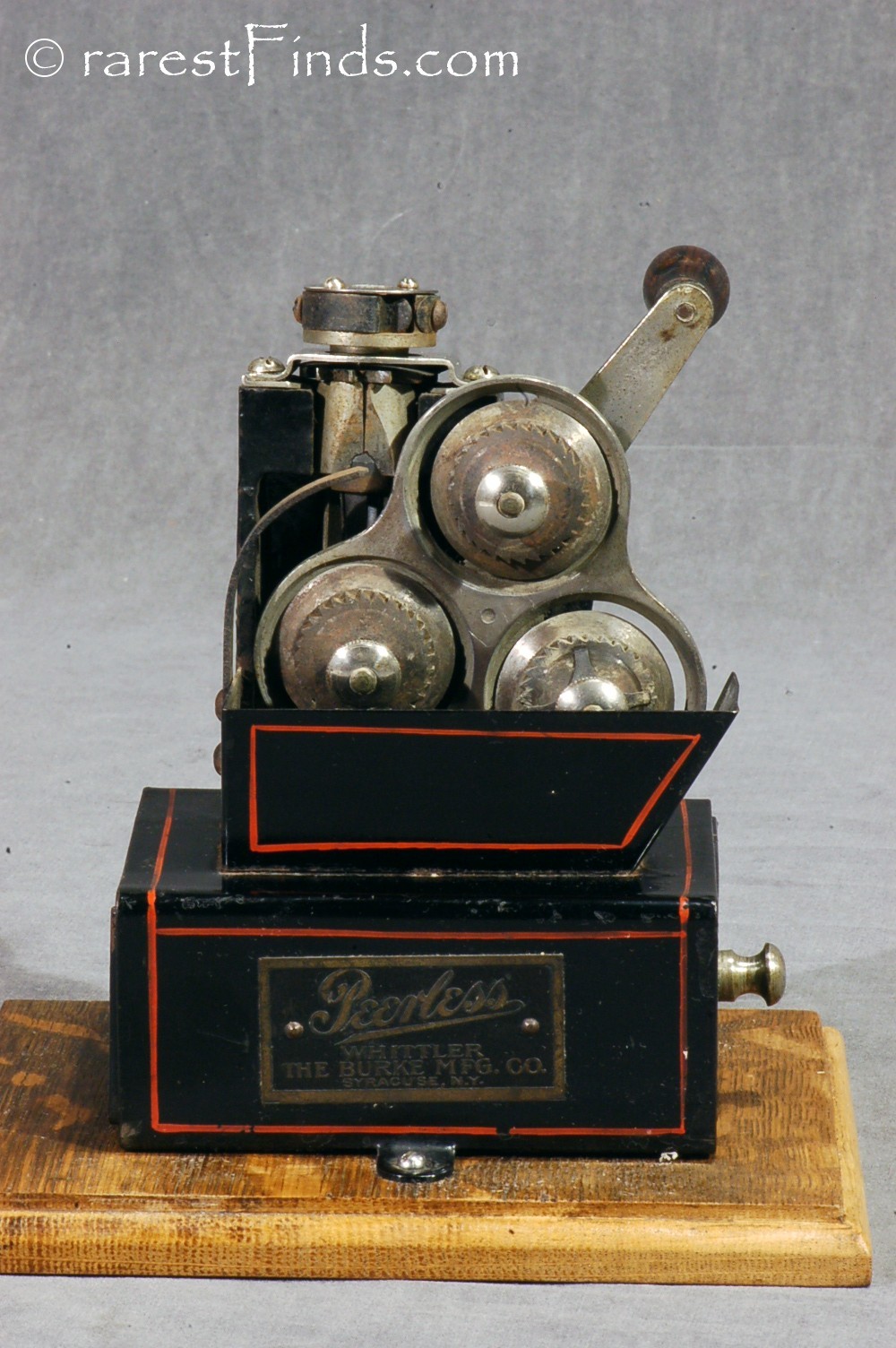 This is an exceedingly rare version with the three cutting knifes of the Peerless Pencil Pointer. If you are an experienced collector, you know that the last one of these showed up on eBay two years ago with a buy it now price of $950.00. The machine sold as soon as it was listed.
Whittler applied for a patent and started manufacturing before the patent issued. In short order, he first manufactured a machine with just one rotating knife, then two, and finally three. The patent never issued and Whittler had to seize production, hence, the machine is very scarce,
read more>>
Posted on 25 Apr 2019, 20:17 - Category: Office, Banking
Comments - Edit - Delete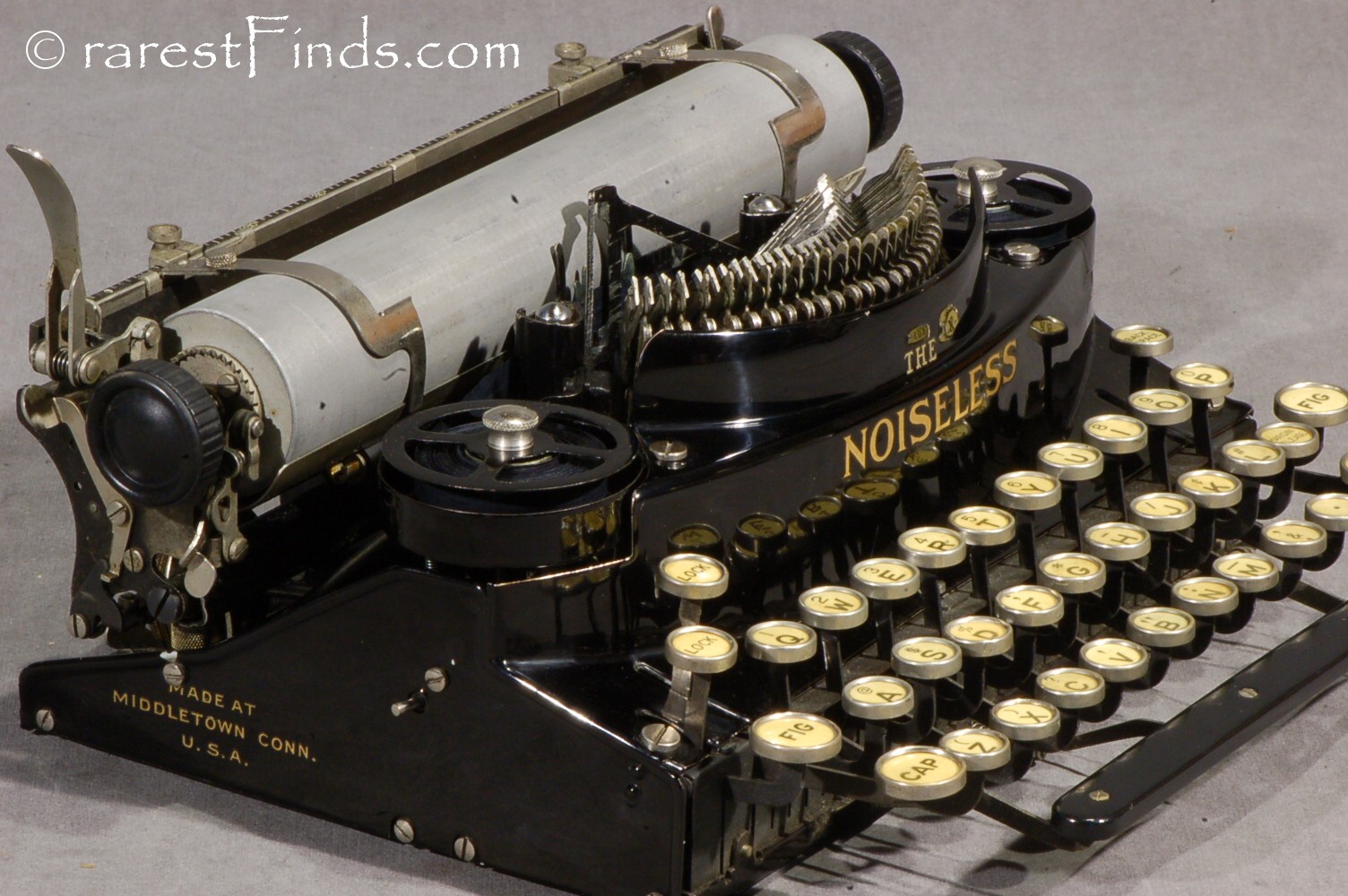 This rare machine has the second lowest serial number of any known Noiseless Portable Typewriter there is; the serial number is 160! In the first year of production in 1921, only 200 of these machines were manufactured and these machines are different than the machines builtin the following three years before Remington bought the company,
read more>>
Posted on 16 Apr 2019, 16:24 - Category: Office, Banking
Comments - Edit - Delete
Pages: [1]