This is an exceedingly rare Sargent & Greenleaf model 2.4 Safe Time Lock.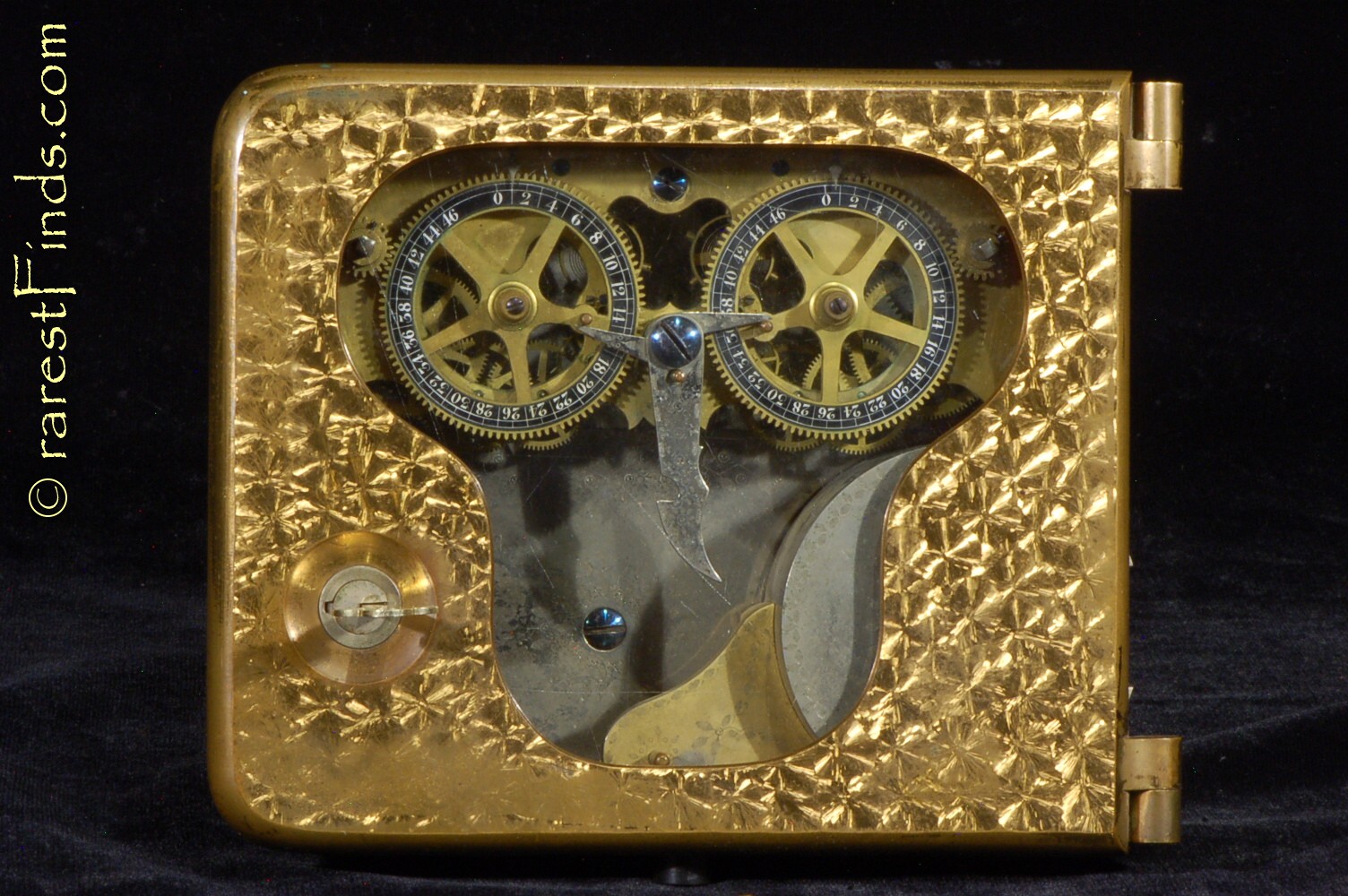 This lock has the unusual gravity rollerbolt and was only manufactured for one year. The lock offered here has serial number 496, and has two clock movements and a maximal run-time of 46 hours.
Most Safe Time Locks found do not come with provenance. The one offered here was protecting the funds of the most famous two evangelists of the 19th century, Dwight L. Moody & Ira D. Sankey.
Read more>>
Posted on 25 Jun 2023, 21:18 - Category: Office, Banking
Comments - Edit - Delete
Frank Baldwin is best known for his work perfecting the Monroe calculators.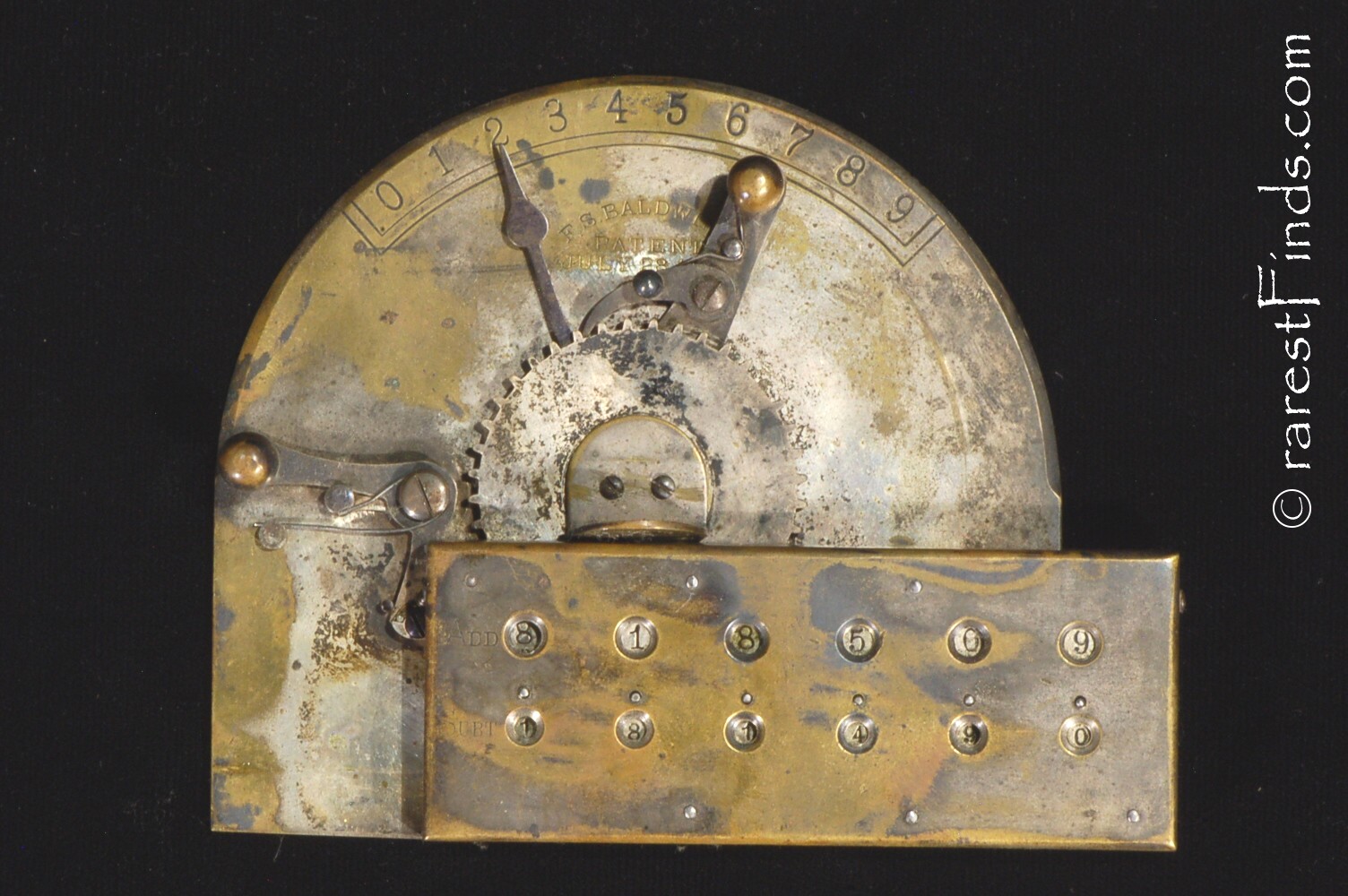 Frank S. Baldwin's adding- subtracting- machine was one of the first ever sold in the United States.
He was 36 years old when he was granted the patent for this machine which could add and subtract numbers between 0 and 999,999. His machine, he called The Arithmometer, was meant to "lessening the labor of adding long columns. The mental strain involved in long continued addition is exceedingly monotonous and fatiguing. Indeed, instances are not wanting where persons employed constantly on this work have become monomaniacs, or partially deranged in consequence,"
read more>>
Posted on 12 Mar 2023, 14:48 - Category: Office, Banking
Comments - Edit - Delete
First scale to work based on a parallelogram with a pointer or hand attached thereto and placed radially on the graduated arc or scale or dial; the functioning principle of which hundreds of thousands of small scales were built thereafter.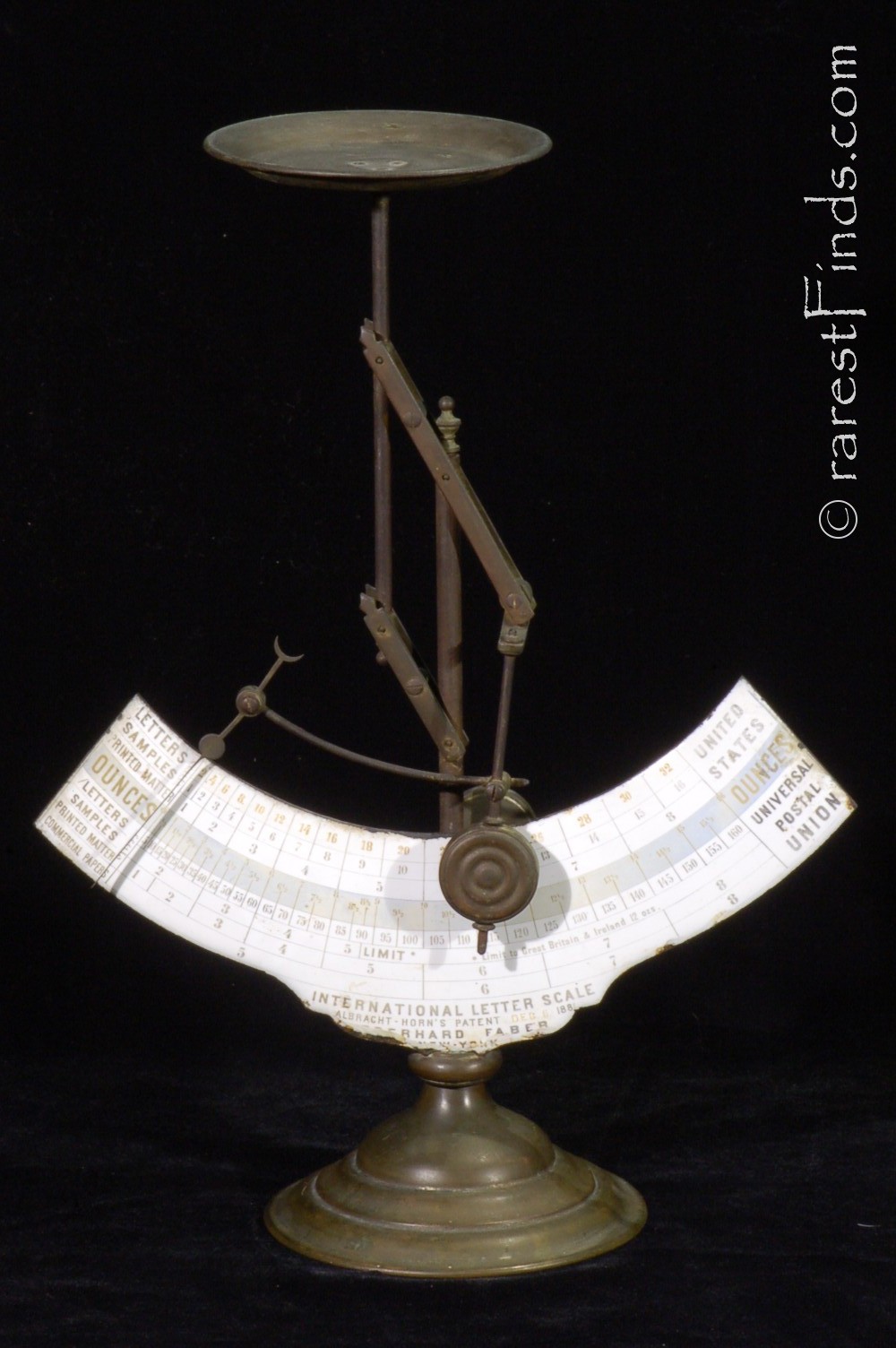 But that is not all, there is more!
This scale also did away with tables used to look up the price for a certain weight of a letter or other mail, whether it was mailed domestic or international.
It does not sound very smart to design a postal scale with the tariffs for different weights of a letter printed on the enamel face or dial of the scale. But this is just one of the inventions protected under the patent issued to Maurits J. Albracht back in 1881.
Unlike today when the price of a letter seems to change every year, back in the 19th and early 20st century, that was not the case. The price seemed to be a thing immutable as cut in stone, never to change.
For the next 38 years, this notion seemed to hold as the postage did actually never change; the postage for a letter up to half an ounce was two cents, and up to one ounce four cents.
However, in 1917, the rates changed and the price for a letter increased from two cents to three cents. That was not the only change and these scales became obsolete, hence its rarity!
This beautiful, back in 1881 ground breaking scale, stands 14-1/2 inches tall and is the first one to use a parallelogram with adjustable arm pointing to the radially graduated arc or dial to indicate the weight. It does not get any better than this! Hundreds of thousands of letter scales were eventually built on this idea or principal,
read more>>
Posted on 02 Feb 2023, 18:55 - Category: Office, Banking
Comments - Edit - Delete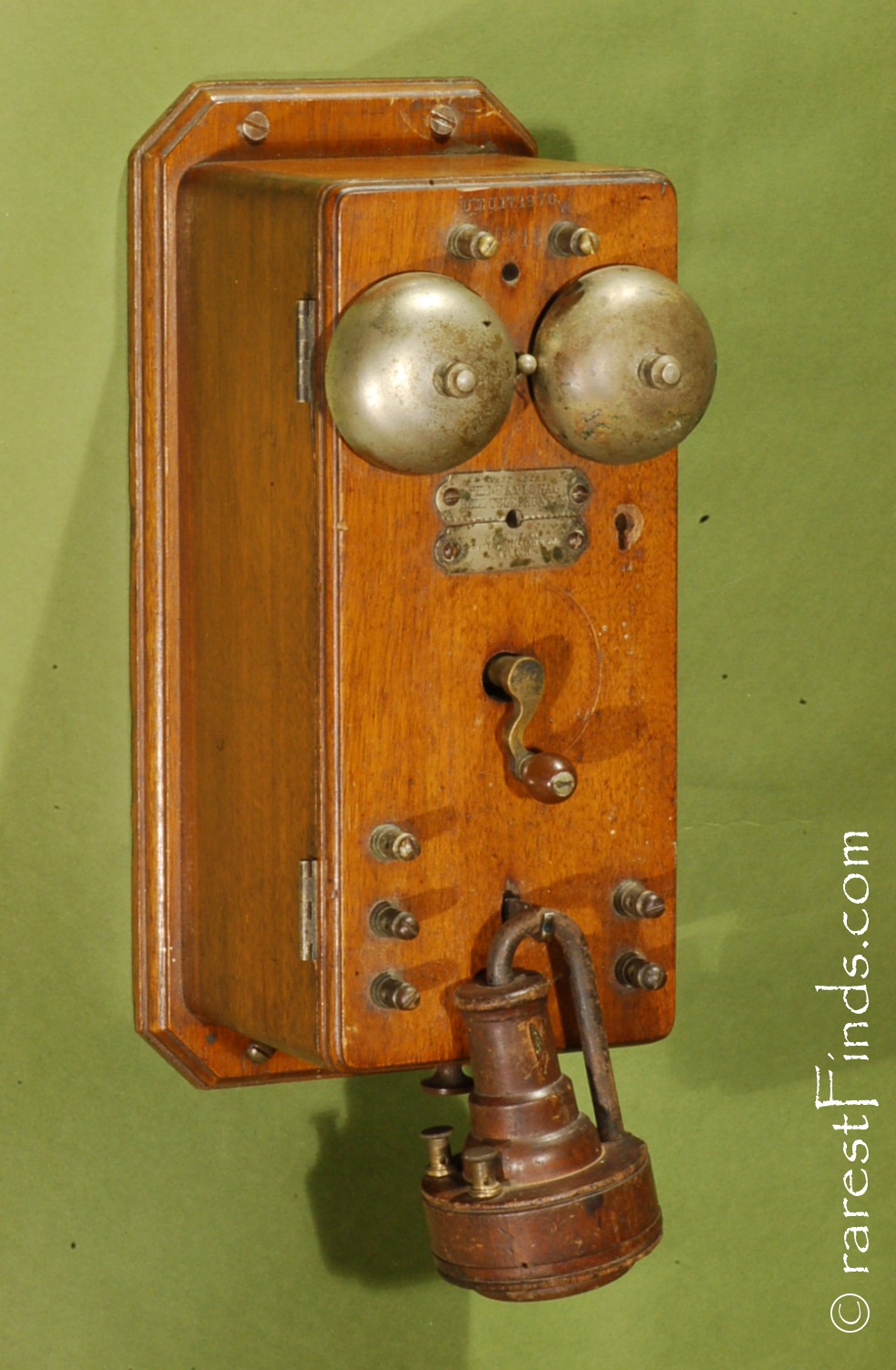 Exceedingly rare historic Telephone, Bell´s first Telephone manufactured by Charles Williams, the telephone every museum and collector is looking for!
Both, his mother and his wife, were deaf. This profoundly influenced Bell's life.
He intensely researched acoustics, sound and human hearing and speech.
His interest and research on hearing devices eventually culminated in Bell being awarded the first U.S. patent for the telephone on March 7, 1876. The patent had the title, "TELEGRAPHY". The term telephone was not coined yet and Bell claimed his invention to be, "the method of, and apparatus for, transmitting vocal or other sounds telegraphically, as herein described [...]".
Bell considered his invention an intrusion on his real work as a scientist and refused to have a telephone in his study.
Two individuals, Thomas A. Watson and Charles Williams Jr., played an important role in Bell's success perfecting and manufacturing the first commercially successful Telephone,
read more>>
Posted on 10 Jan 2020, 18:51 - Category: Office, Banking
Comments - Edit - Delete
Very early machine for adding and subtracting numbers from 0-100 in the shape of an astrolabe. The machine - signed "Pierre Fardoil à Paris" is hand-crafted in steel and brass, measures 5-1/2 inches in height and is in perfect working condition.
There are less than ten other models of calculators known which were invented or made before circa 1700.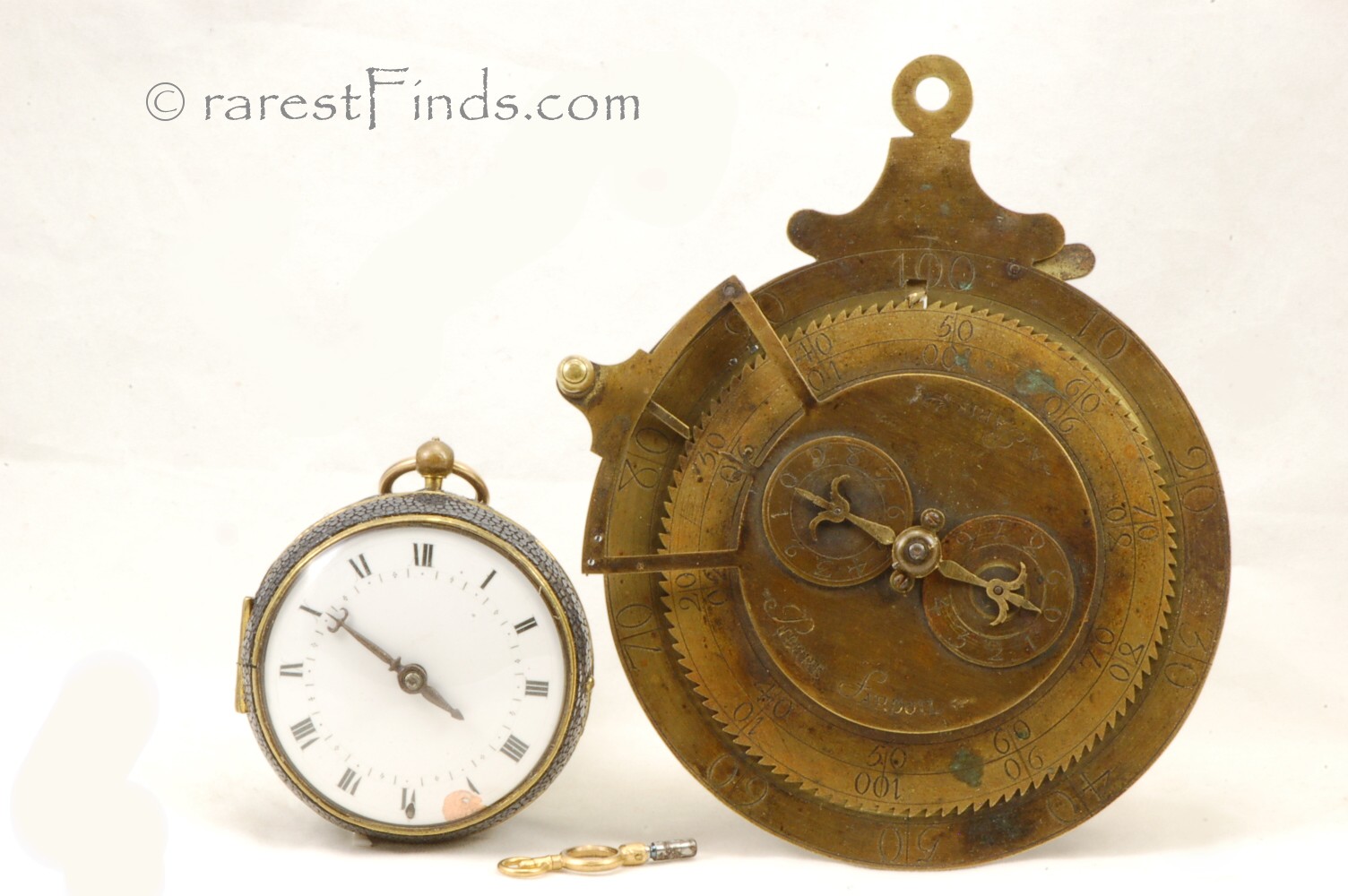 Fardoil's contribution to the development of mechanical calculating devices is the introduction of his mechanism which enables the operator to read the result without counting the dividing marks on a circular scale of a disc shaped adding machine. Fardoil achieved this improvement by utilizing a planetary gear turning two round scales underneath two stationary hands ten times over the entire range of the calculator. The two scales show the numbers from 0-9 for additions and for subtractions respectively. This simple use of a planetary gear enabled Fardoil to provide a read-out in the range of 0-100 without the need of a carry-over from 9 to 10, 20, 30, etc.
Unlike the very early calculators by Schickard, Leibniz, Pascal, Grillet, and others, Fardoil's calculator was a true "pocket calculator" as it is flat and would fit in any pocket.
read more>>
Posted on 11 Feb 2020, 02:31 - Category: Office, Banking
Comments - Edit - Delete
There are probably only eight of these early American Adding Machines known to exist. Aaron L. Hatfield was born in Pennsylvania in 1819 and as a 35 year old man, he invented, patented, manufactured, marketed and sold these adders or adding machines himself while he was living in Lewisburg PA, USA.
As an inventor he patented improvements in pruning shears, pumps, and bag holders.
He moved to Green Springs Ohio and worked as photographer, more specifically, as ambrotypist. He moved again to Constantine in Michigan to work yet in a different occupation; he is listed there as watchmaker. Aaron Hatfield was a man with many talents.
This adding machine is capable to add up numbers up-to 9,999. A simple mechanism performs a carry-over for every operation which goes above 99. The serial number of this machine is 399;
read more>>
Posted on 21 Dec 2021, 17:01 - Category: Office, Banking
Comments - Edit - Delete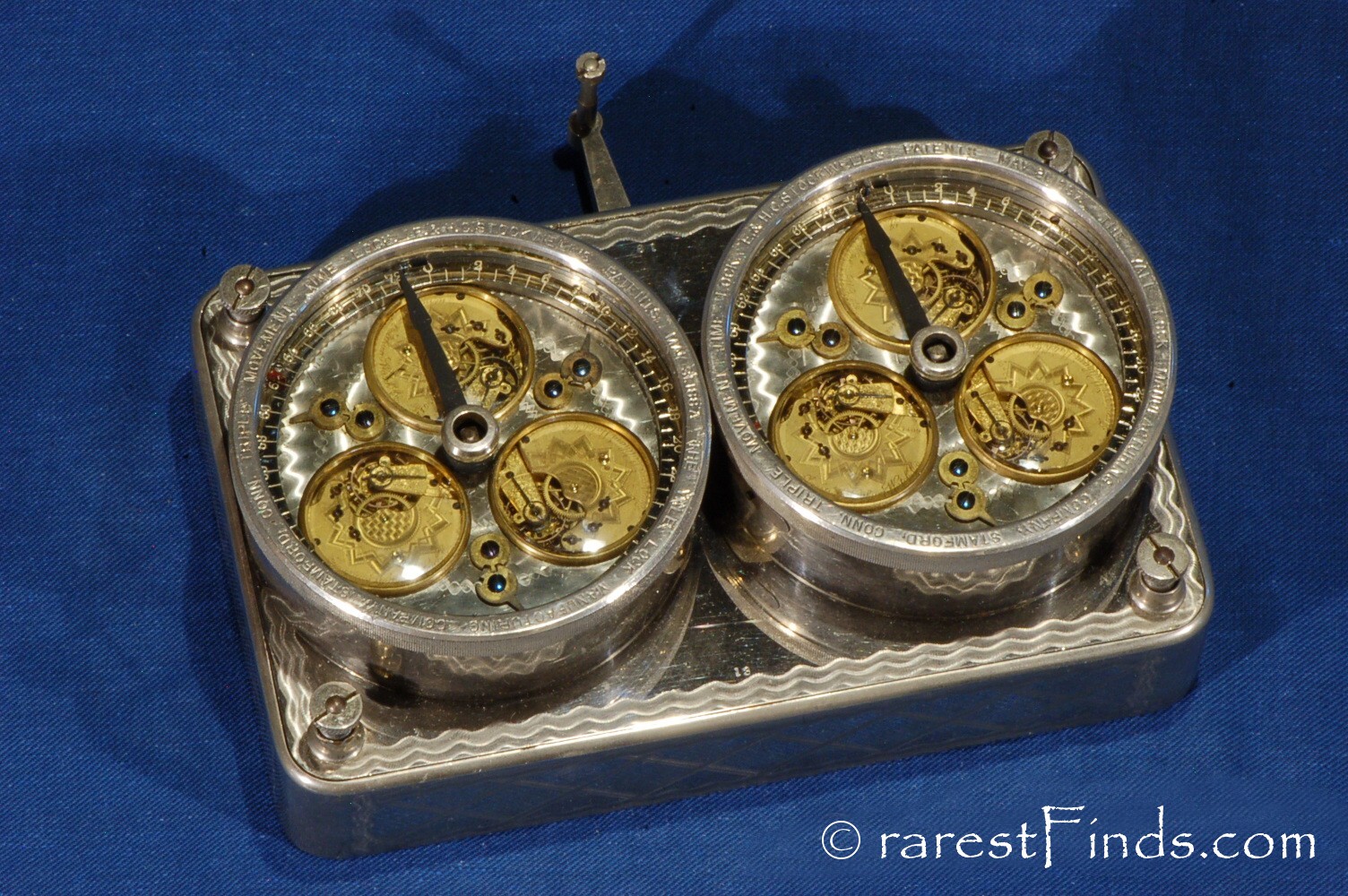 Only 13 were ever built, none were believed to be extant till this Yale And Towne Sextuple or model EE Safe-Time-Lock was found! This is the only extant safe-time-lock with a redundancy of five clock movements!
This time-lock is based on Emory Stockwell's patent with number 363'920, issued on May 31, 1887,
read more>>
Posted on 19 Oct 2018, 09:13 - Category: Office, Banking
Comments - Edit - Delete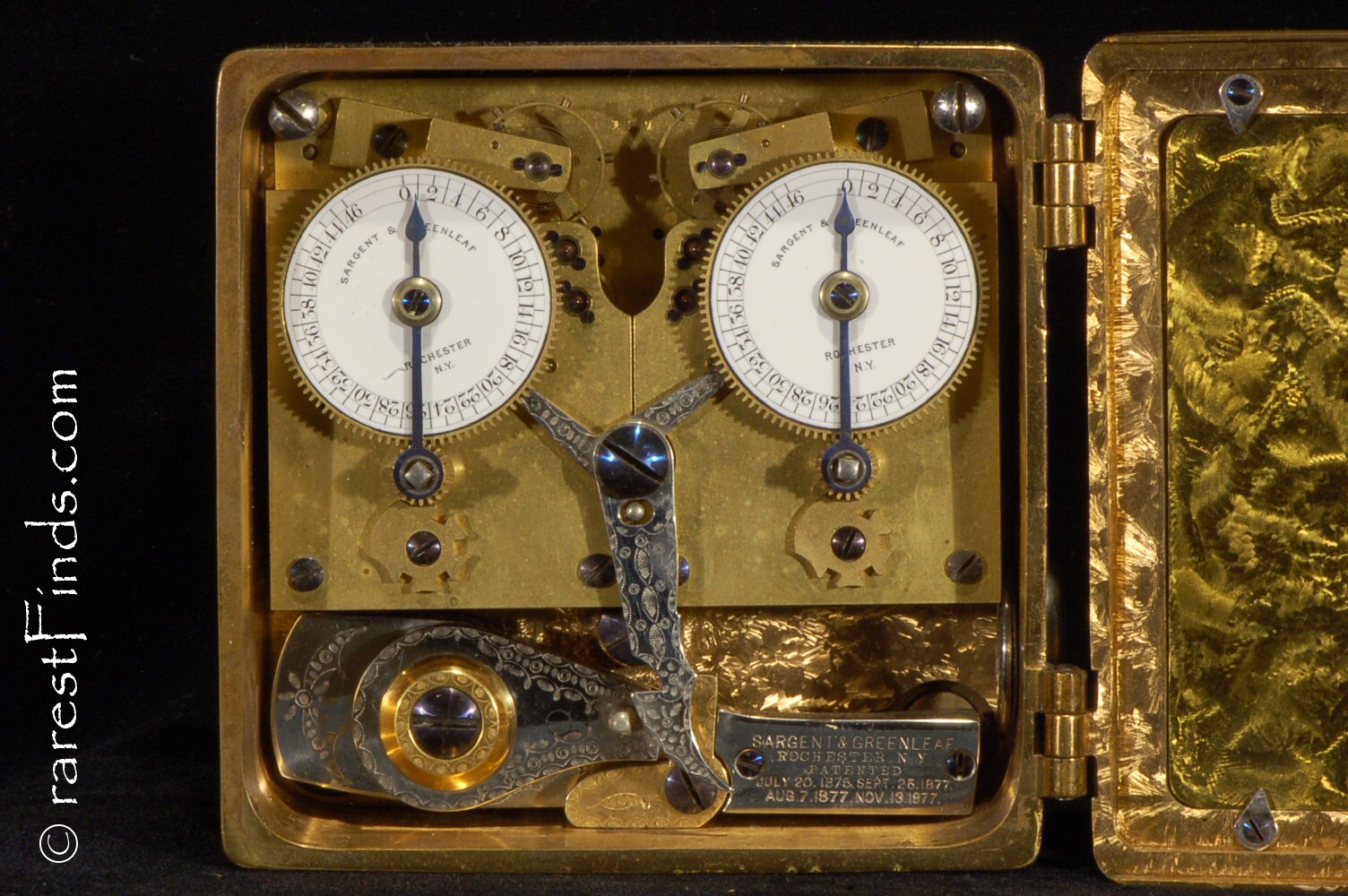 Exceedingly rare Safe-Time-Lock manufactured by Sargent & Greenleaf in Rochester NY. On page 196,
John Erroll states in his book, "American Genius, Nineteenth-Century Bank Locks and Time Locks," that Sargent made 365 of the fourty-six-hour Model 4, of which fifteen are thought to remain today.
This early version was introduced in 1878 and has two forty-six-hour movements and had white enamel dials.
read more>>
Posted on 28 Feb 2020, 01:14 - Category: Office, Banking
Comments - Edit - Delete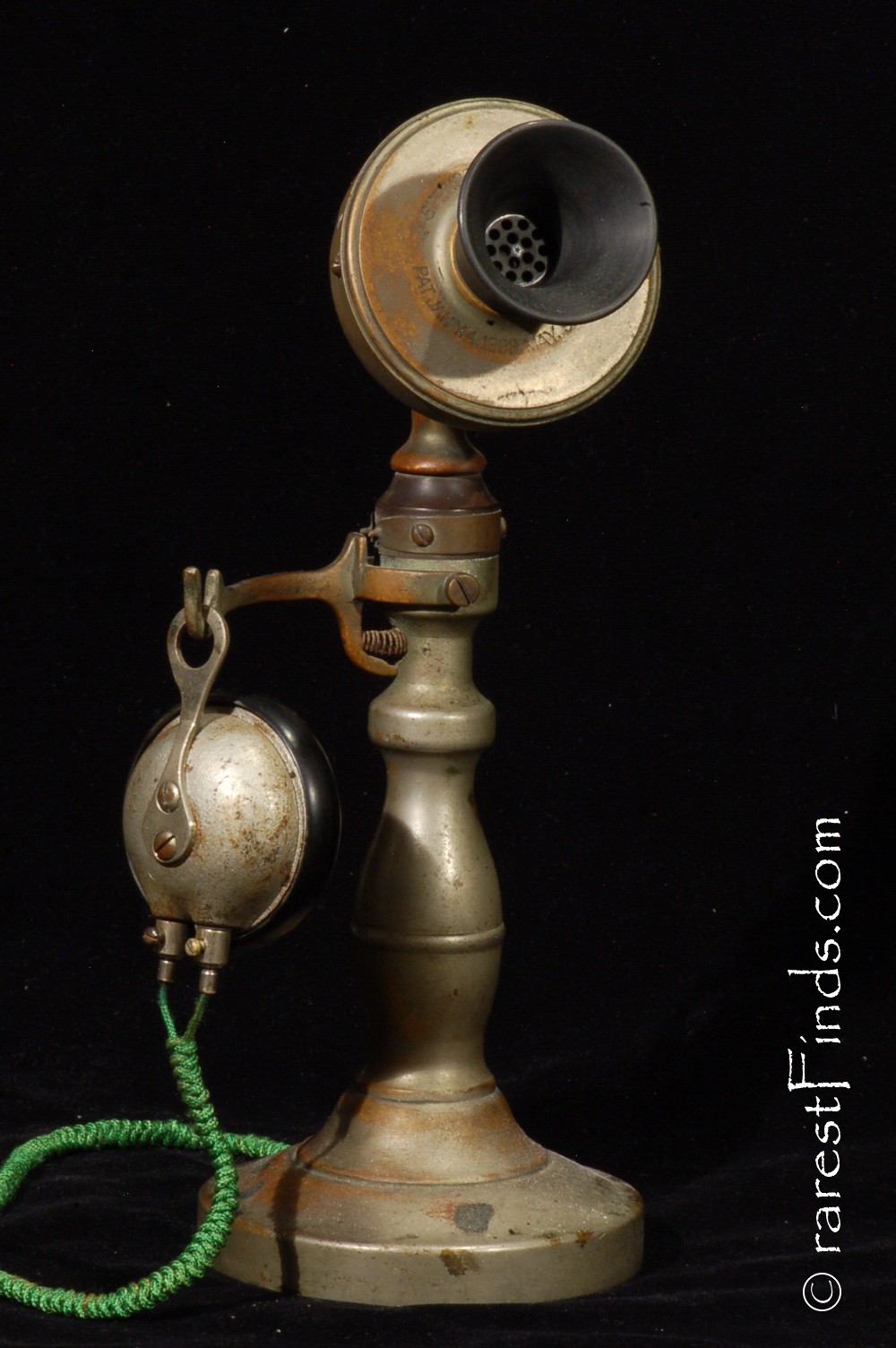 Almost impossible to find, a telephone which is unknown to the large and very active community of telephone collectors, the Spencer Potbelly Candlestick Telephone. I could not find a picture or any record in any publication in the field of historic telephony, or on the Internet! The only records I could find are three patents issued to James H. Spencer and Malcolm S. Keyes, both of New York City, N.Y., a description in the Scientific American Supplement issue of January 29, 1898, and a description of the novel transmitter published in the Electrical World and Engineer, Volume 34, page 248.
There are many telphone related patents issued and no actual hardware was ever found; this was true about the US Patents with the numbers 596'834, issued on January 4, 1898, and the consecutive numbers 624'696, and 624'697, both issued on the same day, May 9, 1899, untill this telephone was found to prove that it was actually manufactured. The serial number of 32 is an indication that there where not many made.
This candlestick telephone with the novel form of transmitter patented by Spencer and Keyes was manufactured by the the Spencer Electrical Company, 163 Greenwich Street, New York City, N.Y.
A description of the novel transmitter, published in the Electrical World and Engineer, Volume 34, page 248, states: "The object of the invention is to avoid metallic vibrations, only the intended actual sound being properly transmitted. To accomplish this result, Mr. Spencer employs novel means of supporting the diaphragm,"
read more>>
Posted on 01 June 2019, 13:29 - Category: Office, Banking
Comments - Edit - Delete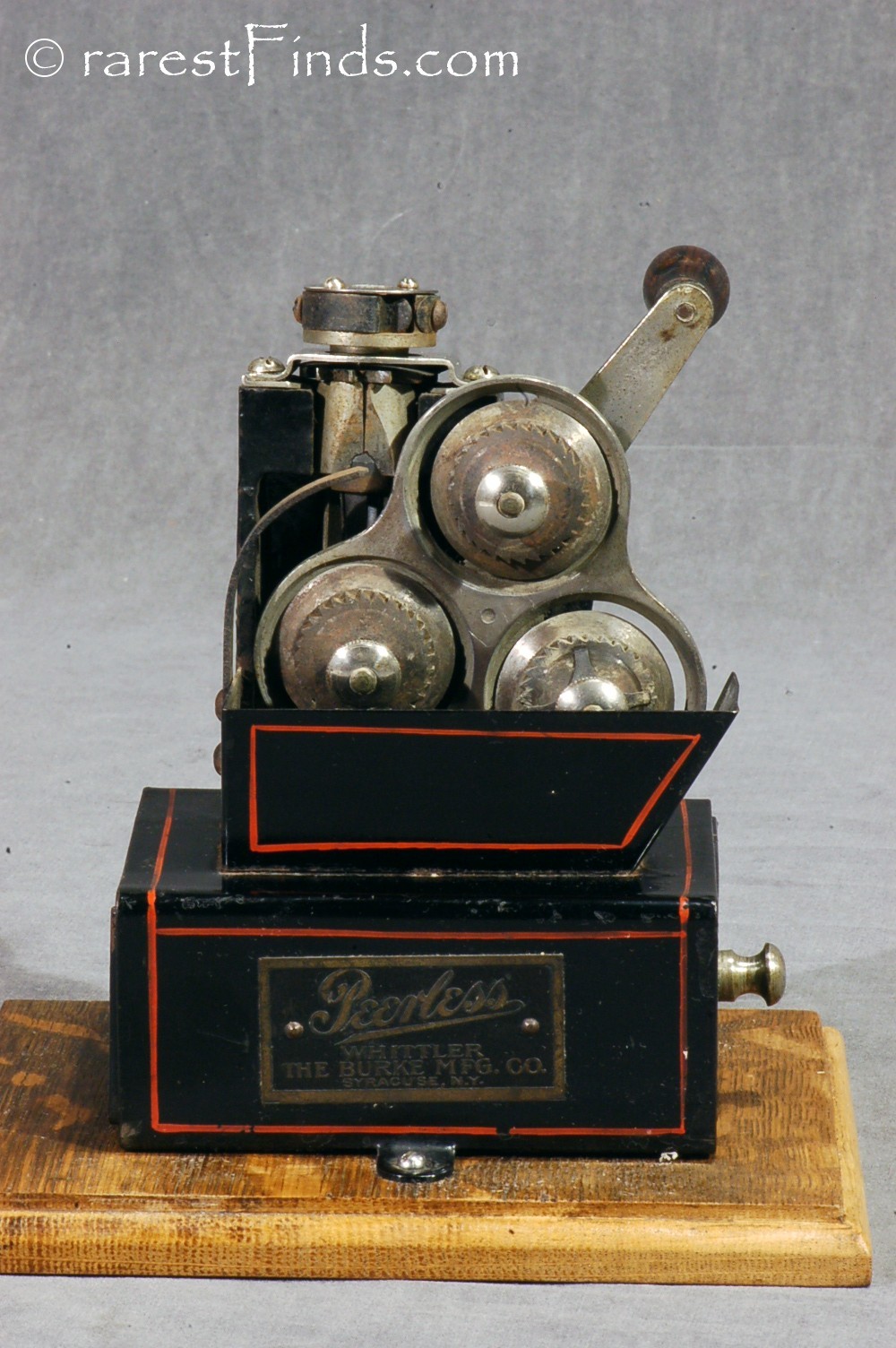 This is an exceedingly rare version with the three cutting knifes of the Peerless Pencil Pointer. If you are an experienced collector, you know that the last one of these showed up on eBay two years ago with a buy it now price of $950.00. The machine sold as soon as it was listed.
Whittler applied for a patent and started manufacturing before the patent issued. In short order, he first manufactured a machine with just one rotating knife, then two, and finally three. The patent never issued and Whittler had to seize production, hence, the machine is very scarce,
read more>>
Posted on 25 Apr 2019, 20:17 - Category: Office, Banking
Comments - Edit - Delete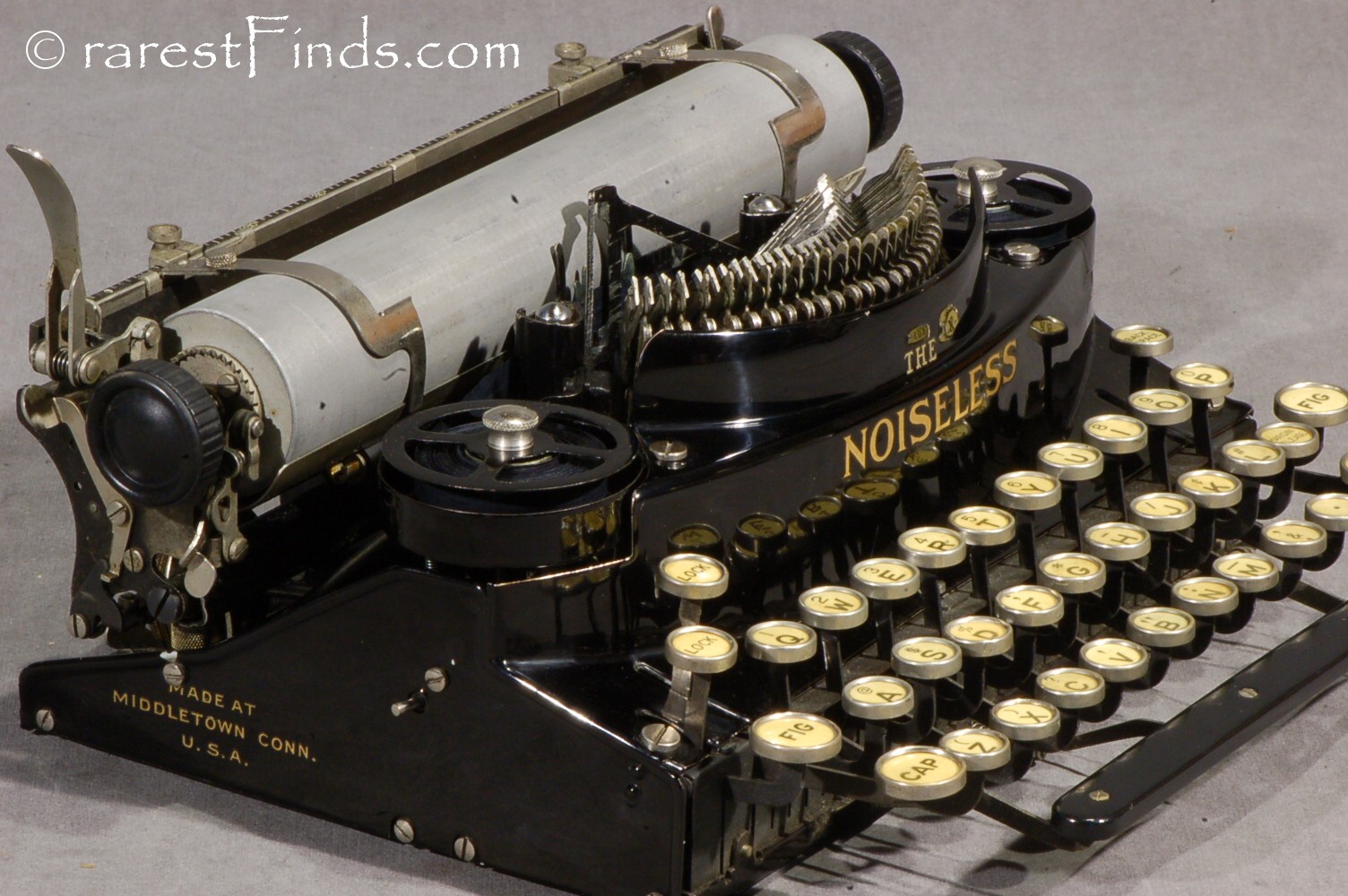 This rare machine has the second lowest serial number of any known Noiseless Portable Typewriter there is; the serial number is 160! In the first year of production in 1921, only 200 of these machines were manufactured and these machines are different than the machines builtin the following three years before Remington bought the company,
read more>>
Posted on 16 Apr 2019, 16:24 - Category: Office, Banking
Comments - Edit - Delete
Pages: [1]